Indigenous Relationships

Aligning Values and Opportunity:
Common Ground – Long term relationships, trust and communication are foundational. We have existing Indigenous relationships such as the Montana First Nation in Alberta to demonstrate our commitment to succeed together.
Support – We work with Indigenous Peoples through each stage of the journey, from exploration, regulatory requirements, development, operations and reclamation. We're experienced to deliver.
Environmental Focus – Sustainable land use with long term secondary benefits. Farm land, golf courses, parks and commercial developments can be created where aggregates pits once existed. Land, water, wildlife habitats can be returned to their natural state.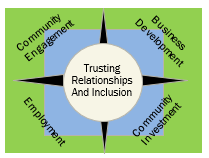 Employment and Training – Sand and Aggregates can bring a community together. We can train and leverage existing skills and businesses that lead to long term and transferable employment.
Economic Benefits – Each tonne extracted creates revenue sharing to provide services for Indigenous communities. Athabasca Minerals works with many general and civil contractors across Western Canada to identify projects that require aggregates.